I have been following very closely with what has been added into iOS 5 Beta 1, 2 & 3 releases and have to say I am very impressed with some of the awesome updates that have come out so far.
Over at Cult Of Mac they have posted some updates as to what has been going on in all the iOS 5 Beta's when they have been released.
I found a few little features that I hadn't noticed till I accidentally found out (in other words didn't know of the feature till phone was turned sideways etc) and so these are just two features I have noticed in Beta 2 and Beta 3 that I have been running for a while now.
Feature #1
When you are in the Camera App and if you swipe your finger to the Right it allows you to look at your Previous Photos in your Camera Album without pressing the Photo Icon down in the bottom Left Had Corner this also works when you turn the Phone Sideways Swiping Right lets you do the exact same thing. This was interesting as I don't remember this being in iOS 4 I could be wrong but yea.
Feature #2
In the Calendar App you have the view of the entire Calendar Month and when on a certain date it gives you the things to do or daily plans which isn't much of a viewing area to be honest, however if you turn the iPhone (iPad?) sideways it gives you a complete view and in my opinion a better outlook for the day as you can tell by when looking in the Calendar App so you have a better look at what the day is like etc.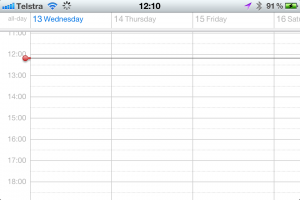 When the iPhone (iPad as well?) turned sideways you can view a lot more on the Calendar to see what the day is like. To add events you press and hold on the screen and if you move your finger up or down to the desired time and if you look closely it gives you the minutes as well or if you had an appointment that changes or something comes up you can drag and left or right to another day and time at your choosing.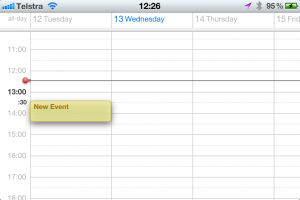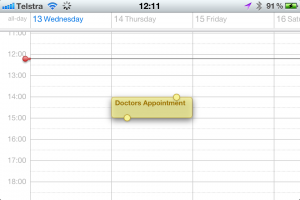 Also you will notice when you add the even once you have the choice of making changes when you want to make a change like the time. For instance you have a Doctors Appointment at 2:00PM and they call to say it has been pushed to 3:30PM you press and hold your finger on the time it pops off the screen (so to speak) and then you drag it down from the 2:00PM time down to 3:30PM or pressing once takes you to the usual editing screen.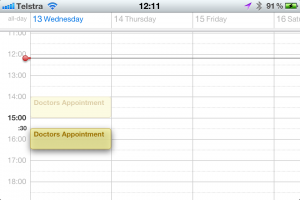 When you change the time or day for the Appointment you will notice the original time is well coloured out (greyed out but depends on colour chosen for that even)
Also you will notice when you hold down the Calendar Item you will see two little bubbles (can't think of what else to call them) this allows you to schedule more time for that specific Appointment or whatever it is you want too change.